Explore Gender Equality Index 2017 online
The conference will provide a forum for around 300 decision-makers and practitioners to discuss the findings of the Gender Equality Index. We will look at recent trends and seek solutions to gender inequalities in the current political and economic context.
Its satellite domain of intersecting inequalities reveals some of the vast inequalities within a few selected groups of women and men based on age, disability, family status, country of birth and education. This third edition also provides new data for social power and health behaviour, not measured in previous editions due to a lack of suitable indicators.
Agenda
Conference moderators:
Mira Banerjee, Head of Knowledge Management and Communications, European Institute for Gender Equality (EIGE)
Edith Stohl, Editor, Austrian National Radio
08:00–09:00 Registration
09:00–09:30 Opening
Virginija Langbakk, Director, European Institute for Gender Equality (EIGE)
Věra Jourová, European Commissioner, Justice, Consumers and Gender Equality
Dimitrios Papadimoulis, Vice President, European Parliament
09:30–11:00 GENDER EQUALITY INDEX 2017
Gender equality in disrupted times
Jolanta Reingardė, Programme Coordinator, Research and Statistics, EIGE
Commentary by:
H. E. Åsa Regnér, Minister for Children, the Elderly and Gender Equality, Ministry of Health and Social Affairs, Sweden
Tiina Astola, Director-General, European Commission Directorate-General for Justice, Consumers and Gender Equality
Joanna Maycock, Secretary General, European Women's Lobby
11:00–11:30 Coffee break
11:30–13:00 PANEL DEBATE
How can intersectional analysis of inequalities contribute to better-informed policy making in the EU?
Marre Karu, Researcher, EIGE
Commentary by:
Ernest Urtasun, Member, European Parliament
Irena Moozova, Director, European Commission Directorate-General for Justice, Consumers and Gender Equality
Pirkko Mahlamäki, Executive Committee Member, European Disability Forum
Pavel Trantina, President, Section for Employment, Social Affairs and Citizenship, European Economic and Social Committee
Focus:
How would the European Agenda on Migration be more effective by setting gender-specific targets?
What measures are needed to ensure gender equality among older people or people with disabilities?
What new pathways could the work-life balance package provide to ensure equal economic independence and equal sharing of care duties between women and men?
13:00–14:30 Lunch
Press conference
14:30–15:40 PANEL DEBATE
Gender equality and health: are women and men equally healthy?
Commentary by:
Zuzana Madarova, National Expert, EIGE
Xavier Prats-Monné, Director-General, European Commission Directorate-General for Health and Food Safety
Sirpa Pietikäinen, Member, European Parliament
Vanessa Moore, Senior Researcher, European Institute of Women's Health
Focus:
How can gender gaps be better addressed by health policies?
How can the different health needs of women and men be met effectively by policies?
How to ensure better evidence to improve women's and men's health?
Can gender mainstreaming ensure stronger synergies between social, economic and health policies?
15:40–16:45 REFLECTIONS IN THE PLENARY
Decision-making in research, media and sports
Davide Barbieri, Statistician, EIGE
Commentary by:
Rolf Tarrach, President, European Universities Association, Luxembourg
Paulina Tomczyk, Policy Officer, EU Athletes
Edith Stohl, Editor, Austrian National Radio
16:45–17:00 CLOSING REMARKS
Frans Timmermans, First Vice President, European Commission
Matti Maasikas, Deputy Minister for EU Affairs, Ministry of Foreign Affairs
of the Republic of Estonia
Virginija Langbakk, Director, EIGE
Download the complete agenda 1.24mb, pdf
Photo Gallery
Speakers
Virginija Langbakk is currently the Director of the European Institute for Gender Equality (EIGE) in Vilnius, Lithuania. EIGE is a regulatory agency of the European Union. It supports the EU and its Member States in promoting gender equality, fighting discrimination based on sex and raising awareness about gender issues.
Previously, Ms Langbakk worked as Deputy Director at the Ministry of Foreign Affairs of Sweden. In her capacity as a gender expert, she has been involved in bringing the gender perspective into the public sector at local, regional and national levels in numerous countries worldwide. At the helm of the European Institute for Gender Equality since 2009, she is responsible for the management of both the administrative and operational structures. Her leading role includes developing and implementing the Institute's strategic programmes of activities and budgets. She aims at positioning the Institute as the most important knowledge centre for gender equality in the EU.
Věra Jourová was born in the Czech Republic. She is the European Commissioner for Justice, Consumers and Gender Equality since 2014. Before that she served as Minister for Regional Development. From 2012 to 2013 she worked as a trainee solicitor in a law firm as well as the Managing Director and EU funds consultant. In 2012, she received the degree in Law (Mgr.) from the Charles University, Prague. In 2006–2011 Věra Jourová executed consultancy activities in the Western Balkans relating to EU accession. In 2003–2006 she served as the Deputy Minister for Regional Development and in 2001–2003 she was the Head of the Department of Regional Development of the Vysočina Region. As the Secretary and Spokesperson of the Třebič Municipal Office, Věra Jourová served in 1995–2000. She received her Master's degree in theory of culture from Charles University Prague in 1991.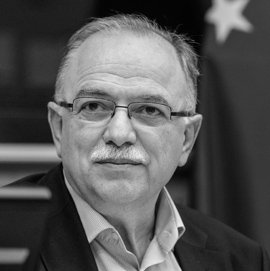 Dimitrios Papadimoulis was born in 1955 in Athens. He graduated from Varvakeio Junior High School of Athens and studied at the School of Civil Engineering of NTUA (National Technical University of Athens). He has worked as an engineer and business executive during 1980–2004. His first term in the European Parliament was in 2004–2009, shortly afterwards in the Greek Parliament (2009–2014), and he was re-elected as MEP in the 2014 European elections. In July of that year, he was elected Vice-President of the European Parliament with 42.1%, a percentage of positive votes, which in his second re-election in January 2017 reached 73.5%.
The new Bureau, in which Mr Papadimoulis continues to represent the Delegation of the Left, will run the European Parliament until 1 July 2019. He is the only Greek and the only representative from the Left at the Presidium of the European Parliament.
He is a regular member of the Committee on Economic and Monetary Affairs (ECON) and a substitute member of the Committee on Regional Development (REGI).
Parliamentary ID:
Member, Parliament's Bureau
Member, Confederal Group of the European United Left – Nordic Green Left
Member, ECON (Committee on Economic and Monetary Affairs)
Member, Delegation to the ACP-EU Joint Parliamentary Assembly
Member, Coalition of the Radical Left
Substitute, REGI (Committee on Regional Development)
Substitute, Delegation for relations with the People's Republic of China
Substitute, Delegation for relations with the countries of Southeast Asia and the Association of Southeast Asian Nations (ASEAN)
Åsa Regnér was born in 1964 and is Minister for Children, the Elderly and Gender Equality of Sweden. In 2011 she received an MA in democratic development, Uppsala University, in 1991 a Bachelor of Arts degree (German, Spanish, and history of art), Stockholm University, and studied 1984–1985 at MA level in political science, sociology and German literature, Friedrich-Alexander-Universität, Erlangen, Germany.
From 2013 to 2014 she was Country Director, UN Women, Bolivia, from 2007 to 2012 Secretary-General, RFSU (the Swedish Association for Sex Education), from 2004 to 2006 Director of Planning, Ministry of Justice (Minister for Democracy and Gender Equality).
In 1999–2004 Åsa Regnér served as Political Adviser, Prime Minister's Office (EU Coordination), 1998–1999 as Political Adviser, home affairs, Prime Minister's Office (six-month leave of absence in 2000 to co-author a report on a research project – Tema Genus – at Linköping University), 1996–1998 as Special Adviser, Ministry of Employment, 1995–1996 as Inquiry Chair, Inquiry into the labour market for women, 1994–1996 as researcher, Confederation of Professional Employees, 1992–1994 as desk officer in the Ministry of Employment, 1991–1993 as an Assistant Inquiry Secretary, Ministry of Employment. From 1990 to 1991 she worked as a volunteer in Bolivia.
Tiina Astola studied law (LL.B in 1977 and LL.M in 1984) at the University of Turku, Finland as well as at Vrije Universiteit Brussel, Belgium (LL.M 1983). She worked as a lawyer and head of department at the Finnish Foreign Trade Association 1980–1986. She joined the Ministry of Justice for the first time in 1986, worked for the Ministry of Finance in 1990-1992 and returned to the Ministry of Justice in 1992 where she was first responsible for Company Law legislation, thereafter head of the European Law Unit 1997–2001 and head of the Private Law Unit at the Department of Legislation 2001– 2007.
From 2007-2016 she served as the permanent secretary of the ministry. With the responsibility of the functioning of the Ministry and its sphere of activities (both international and domestic law drafting, courts, prosecutors, legal aid, enforcement etc.). As from February 2016 she works as Director-General - DG Justice and Consumers (JUST).
Joanna Maycock has been Secretary General of the European Women's Lobby (EWL) since May 2014.
Founded in 1990, the European Women's Lobby (EWL) is the largest alliance of women's non-governmental associations in the European Union. The EWL has over 2000 women's organisation members throughout the EU who come together around our common vision of a Feminist Europe.
EWL is a credible source of expertise and experience on women's rights, representing the diversity of the women's movement across the European Union. EWL represents an inclusive, confident, loud, independent feminist voice and brings real women's voices into the EU political arena.
Since joining the EWL in 2014, Joanna has been leading work with the membership to define a dynamic new strategic vision for the women's movement in Europe, to strengthen its joint vision and work towards a feminist Europe.
A lifelong feminist, Joanna has 20 years' experience in leadership positions in Civil Society. She led ActionAid International's work in Europe: Developing and implementing campaigns on the effectiveness of international aid, and women's rights. Joanna was the first woman President of CONCORD, the European Confederation of Development NGOs. Prior to that, she worked for the International Organisation for Migration focusing on rights of migrant women and women victims of trafficking.
Joanna was named one of the most influential women in Brussels by Politico newspaper in 2016.
@JoannaMaycock
@europeanwomen
Ernest Urtasun was born in 1982 and is a Member of the European Parliament. He has a degree in Economics and a post-graduate in International Relations. When Ernest Urtasun was 15 years old he joined the Green-Left Youth of Spain. In the organization, he was a member of the executive committee, responsible for international relations and coordinator of the local group of Barcelona. He was a candidate at the local elections in 2003 and 2007, and at the European elections in 2004.
On a European level, Ernest Urtasun was the spokesperson of the Federation of Young European Greens and a member of the Bureau of the European Youth Forum, representing the organization to the Copenhagen Climate Summit in 2009. He coordinated the delegations of ICV at the European Social Forums in Florence, Paris, and London. In 2007 Ernest Urtasun took on the responsibility of Head of International Relations of ICV, where he coordinated, together with Jordi Guillot, the ICV's admission to the European Green Party. He was Vice- President of the Catalan Council of the European Movement and in 2009 he ran again for the European Parliament. In 2010, he entered the Spanish Diplomatic Service, where he developed different responsibilities at the Ministry of Foreign Affairs and Cooperation. Ernest Urtasun also served as a Diplomatic Adviser to the Secretary General of the Union for the Mediterranean, an international organization based in Barcelona.
Ms Irena Moozová is a Director at the European Commission for Equality and Union Citizenship in its department of Justice (DG JUST). Ms Moozová joined the Commission in 2006 as Head of EU Representation in Prague. Between May 2010 and April 2017 she was heading the Unit in charge of supporting the Commission Representations, in the Directorate-General for Communication (DG COMM). From 1991 till 2006 she had been working at the Ministry of Foreign Affairs of the Czech and Slovak/Czech Republic in various management positions, such as Head of the Department of Internal Administration (1993–1995), Deputy Director of the Department of the Human Rights (1999–2000) and as a team coordinator at the NATO Summit (2002). She had served as Czech Deputy Ambassador in Madrid (1995–1998), Deputy Ambassador of the Czech Republic to the OSCE in Vienna (2000–2004) and the Permanent Representative of the Czech Republic to the UNESCO in Paris (2004–2006). Ms Moozová graduated at the Prague Charles University Faculty of Law and has completed postgraduate studies at Diplomatic Academy in Madrid. She is married and has two daughters.
Ms Pirkko Mahlamäki, MA, BLL, secretary general of Finnish Disability Forum since 2000, former policy officer and current executive committee and board member of European Disability Forum, representing EDF on the board of European Women's Lobby 2016–2018. She is a member of Non-Discrimination and Equality Tribunal of Finland. She was Advisor member of Finnish delegation to UN Ad hoc committee preparing International Convention on the Rights of People with Disabilities.
She continues to work for mainstreaming of disability and of gender issues and promoting rights of persons with disabilities and gender equality in national, Nordic, European and international networks, and for joint civil society activism in promotion of human rights and fundamental freedom. She has worked in projects to improve the situation of women with disabilities, violence prevention, victim support and increasing awareness of sexual and reproductive health and rights issues for girls and women with disabilities. She has worked to promote independent living solutions for persons with disabilities. In 2009, she was awarded the Cross of Merit of the Order of the White Rose of Finland, and the Human rights award by the Finnish Institution of Human Rights.
Pavel Trantina was born in 1975 in České Budějovice, Czechoslovakia. He studied history and political science at the Faculty of Arts of the Charles University in Prague. Worked as political analyst in the Office of the President of the Czech Republic (1996–2002), International Commissioner of Junák – Association of Scouts and Guides of the Czech Republic (1998–2008, mostly as a volunteer), Chairman of the Czech Council of Children and Youth (2004–2007), Director of the Department of EU Affairs at the Ministry of Education, Youth and Sports, responsible for the preparation of the Czech Presidency of the EU Council (2007–2009), and Coordinator of recognition of non-formal education in the ESF funded project "Keys for Life" (2010–2011). Currently works both as a freelance trainer, translator and project manager and EU projects and relations manager in the Czech Council of Children and Youth.
Member of the European Economic and Social Committee (EESC) since 2006, specialized in youth issues, education, the situation of young people in the labour market and volunteering, 2011–2015 Vice-President of the EESC Group III. Since October 2015 he is President of the EESC Section for Employment, Social Affairs and Citizenship.
Xavier Prats Monné is the Director-General for Health and Food Safety of the European Commission since September 2015. He previously served as Director-General for education and culture, and as Director for employment policy. He holds degrees in Social Anthropology from the Universidad Complutense (Madrid, Spain); in Development Cooperation from the International Centre for Advanced Mediterranean Agronomic Studies (CIHEAM; Paris, France); and in European Studies from the College of Europe (Bruges, Belgium), where he graduated first of the class of 1981–1982 and served as assistant professor. He is from Spain, fluent in Spanish, English, French, Italian, and Catalan.
Ms Sirpa Pietikäinen is a Finnish member of the European People's Party (EPP) in the European Parliament since 2008. She was re-elected in 2009 and 2014. Ms Pietikäinen is former Finnish Minister of Environment (1991–1995). At the European parliament, Ms Pietikäinen is a member of the Economic and Monetary Affairs Committee and PANA-Committee, and a substitute member of the Environment, Public Health and Food Safety Committee, and the Women's Rights and Gender Equality Committee.
A graduate of the Helsinki School of Economics, Ms Pietikäinen is active in several organizations. Her positions of trust include Chairmanship of the Globe EU and membership of the board of Alzheimer Europe.
Vanessa Moore is a Senior Researcher at the European Institute of Women's Health. Vanessa is working with the EIWH to make gender equity in public health, biomedical research, treatment, care and social policies a priority for EU action. The EIWH considers that many factors that influence health lie outside the health sector, and a gender/social aspect is always included in their work. The EIWH's work takes a life-course approach to health and well-being, and believe that action must be taken early and at critical points to ensure health and well-being from young through to older age.
Vanessa has led the EIWH's work in the area of gender and vaccination access and uptake across the lifespan as well as chronic diseases, older people and public health. She is involved in the EIWH's policy briefs on topics including diabetes, CVD, lung cancer, and the impact of smoking and alcohol on women. As part of her work, Vanessa has highlighted sex and gender issues at the European Medicines Agency.
Vanessa is currently a Board Member of the European Public Health Alliance (EPHA).
She is also in the process of completing her PhD at the School of Social Work and Social Policy at Trinity College Dublin, where she is analysing the experiences of persons with young onset dementia of accessing health care services and social care services in Ireland.
Professor Rolf Tarrach was rector of the trilingual University of Luxembourg since 2005 – a position that he held for ten years. He was born in Valencia, Spain, in 1948, studied Physics at the University of Valencia and obtained his PhD from the University of Barcelona. He subsequently served as a postdoctoral researcher at CERN, Geneva, and was a professor of theoretical physics at the Universities of Valencia and Barcelona.
Rolf Tarrach has published more than 100 papers in theoretical high energy physics, quantum field theory, and quantum mechanics and has written two books on quantum information theory. He has been honored with a honoris causa degree from the University of Saint Petersburg (Russia), and he is the recipient of several prizes from four countries. He was Dean of the School of Physics and Vice-Rector of the University of Barcelona.
Rolf Tarrach is the former president of CSIC Madrid (the Spanish Scientific Research Council) and a former member of the European Union Research Advisory Board of the European Heads of Research Council group, which he also chaired and of the 5-year assessment panel of experts of the European Commission. He is a former member of the Board of Telefonica of Catalonia and has been a co-organizer of the first three Euroscience Open Forum meetings in Stockholm (2004), Munich (2006) and Barcelona (2008). In 2008 he became the President of the Academic Cooperation Association (ACA) and was the Vice-chair of the jury of the French "Initiative d'excellence" in 2011–2012, and again in 2015–2016. Professor Tarrach continues to be a professor of Physics at the University of Luxembourg. He has been a Council Member of the European University Association (EUA) for ten years. Since 2015 he is the President of the EUA.
Paulina Tomczyk (born in 1987 in Poland) is the Policy Officer at European Elite Athletes Association (EU Athletes). Working in the position and in the sports sector since 2015, she is responsible for advocating and representing the organization at European fora. Since 2016, she has also been working on management of European-wide Erasmus+ collaborative projects, including Supporting Women Athletes from Europe (SWAFE). Paulina is a Member of the Bureau of the Enlarged Partial Agreement on Sport (EPAS) Consultative Committee.
Paulina holds Master's Degrees in Law (University of Gdansk, Poland), International Public Law (Université Jean Moulin Lyon 3, France) and European Studies (Aix-Marseille Université, France).
A former high-level athlete, she has a black belt (1st DAN) in judo and had been a member of Polish national team for several years.
Edith Stohl is the president of Female Journalists Network in Vienna, Austria since 2015. She works as a director, editor and journalist for TV documentaries at the ORF, the Austrian public broadcasting, where she served as equal opportunity officer from 2011–2013. As director of TV documentaries, she produced i.e. a portrait of the first female Nobel Peace Prize winner 1905, the Austrian pacifist and novelist Bertha von Suttner. Edith Stohl made documentaries on violence against women and the male role in society, which was on the short list of best documentaries in 2015 and 2016.
As of 1995 Edith Stohl initiated and organized a group of women for a petition for women's rights in Austria which was signed by 650.000 people in 1997. By 1998 she initiated and organized with others a women's group in the ORF demanding an equal opportunity officer and a quota which became law by 2005. She was also a founding member of female journalists' network in 1999.
Edith Stohl was born in Austria, studied history at the University of Vienna, lived and worked in London and Warsaw, is the mother of a girl and a boy and has a grandson. Edith Stohl was awarded the order of the gold medal of the Republic of Austria for her engagement for women's rights in spring 2017.
Matti Maasikas is the Deputy Minister for EU Affairs at the Ministry of Foreign Affairs and his main task is overseeing relations with EU institutions during the Estonian Presidency of the Council of the EU.
Previously, among other positions, he has served as the Permanent Representative of Estonia to the EU from 2011-2016, adviser for the European Commission Bureau of European Policy Advisers, Member of Cabinet for European Commissioner for Enlargement and Economic and Monetary Affairs, Secretary General of the Ministry of Foreign Affairs from 2005-2008 and Ambassador of Estonia to Finland from 2001-2005.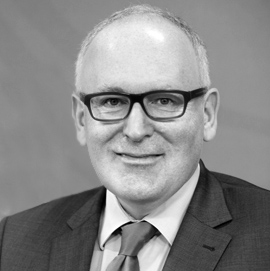 Frans Timmermans was born in May 1961 and is a Dutch politician and diplomat who currently serves as the First Vice-President of the European Commission and the European Commissioner for the portfolio of Better Regulation, Inter-Institutional Relations, Rule of Law and Charter of Fundamental Rights in the Juncker Commission since 1 November 2014.
Timmermans previously worked in the Dutch Civil Service (1987–1998), as a member of the House of Representatives for the Labour Party (1998–2007; 2010–2012), as Undersecretary for Foreign Affairs charged with European Affairs (2007–2010) and as Minister of Foreign Affairs (2012–2014). In 1995–1998 he served as a Senior Advisor and Private Secretary to the High Commissioner on National Minorities of the OSCE, Max van der Stoel and in 1994–1995 as a staff member for EU Commissioner Hans van den Broek. In 1993 and 1994 Timmermans worked as deputy head of the Minister for Development Cooperation's EC Affairs Section, in 1990 and 1993 as the Deputy Secretary of the Dutch embassy in Moscow. In 1987–1990 he served as Policy Officer in the Ministry of Foreign Affairs. In 1984–1985 he had postgraduate courses in European Law and French Literature at the University of Nancy. In 1980–1985 he achieved a degree in French language and literature, Radboud University Nijmegen. Timmermans is married with four children.
Gender Equality Index videos
Practical Information
The conference will take place on 11 October from 09:00-17:00 in the Justus Lipsius building, Rue de la Loi 175, 1000 Brussels, Belgium.View the map.
Please be aware that access to the building requires you to pass a tight security check. In order to allow a smooth start, you are kindly requested to start registering from 8:00 am.
Conference video recordings
Publications
Gender Equality Index 2017: Measuring gender equality in the European Union 2005-2015 - Report
Gender Equality Index 2017: Measuring gender equality in the European Union 2005-2015 - Main findings
Gender Equality Index 2017 in brief: A snail's pace towards gender equality
Press release: Gender Equality Index 2017: Progress at a snail's pace
Downloads
Organizer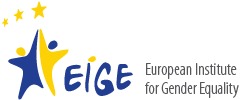 Hosted under the auspices of