Health and risk behaviours are clearly gendered
WHO defines health behaviour as 'any activity undertaken by an individual, regardless of actual or perceived health status, for the purpose of promoting, protecting or maintaining health, whether or not such behaviour is objectively effective towards that end' (Nutbeam, 1998). Health behaviour and health status are interlinked, since the activities shaping the first influence the outcomes of the second. Health behaviours have different characteristics and aims. While health-promoting behaviours are purposefully espoused to protect and maintain health status, risk behaviours are adopted despite their harmful consequences (Nutbeam, 1998). The Gender Equality Index monitors both types of health behaviour. Indicators for health-protecting behaviour include diet and exercise, while health risk behaviour covers activities such as heavy drinking and smoking[1].
Gender is an important social determinant of health, shaping and reproducing how women and men engage in health behaviour. Research often frames women as as engaging in health-promoting behaviour, whereas men are portrayed as taking more risks (Courtenay, 2000), a pattern visible in the EU. However, on average, the EU population does too little physical activity and consumes insufficient fruit and vegetables regardless of gender, despite WHO recommendations.
Women are less physically active but eat more healthily
Physical activity is an important component of healthy behaviour recommended for all ages and in stages of the life cycle, including during pregnancy and post partum. The health benefits of exercise range from better cognitive and mental health to improved cardiovascular activity and, ultimately, lower all-cause mortality rates. The WHO recommends that all adults aged between 18 and 64 years engage in at least 150–300 minutes of moderate-intensity aerobic activity or between 75 and –150  minutes of vigorous-intensity aerobic exercise every week (WHO, 2020h).
On average, approximately more than half the EU adult population is missing the target of 3 hours a week (Figure 33). The gender gap in physical activity across the EU is 5 p.p. in men's favour. Estonia is the only Member State where slightly more women than men engage in physical activity, and it is also the country with the highest proportion (85 %) of people exercising[2]. Belgium has the largest gap (11.7 p.p.) in weekly exercise between women and men, while Denmark is the only Member State without a gender gap. Throughout life (16–75+ years), gender gaps in physical activity remain the lowest, at 1 p.p., between the ages of 50 and 64 years. The biggest gender gaps are among young adults (16–24 years) and elderly people (75+ years). In both cases, the gender gap is 10 p.p. to women's detriment[3].
Figure 33. Women and men performing physical activity outside working time for at least 180 minutes per week, by sex and EU Member State (%, 16+ years, 2017)
Source: Eurostat, https://ec.europa.eu/eurostat/web/products-datasets/-/ilc_hch07.
EU: Eurostat estimation, EE, LT, SK: low reliability
In the EU, gender gaps in physical activity emerge before adulthood. WHO underlines the importance of exercise for children and adolescents, recommending even higher amounts of daily activity because of ongoing physical and cognitive development during this life stage (WHO Regional Office for Europe, 2020a). HBSC survey data shows that children's level of activity tends to decline between the ages of 11 and 15 years, especially among girls (WHO, 2016a, WHO Regional Office for Europe, 2017), with parental income key to determining children's access to sports (Richter et al., 2009). Among 11-, 13- and 15-year-olds, boys more often than girls report daily moderate to vigorous physical activity of at least 60 minutes. The EU gender gap in this instance is 7 p.p. The largest gender gaps are noted in Spain, at 14 p.p., and Austria, Finland and Ireland – all at 11 p.p.
Gaps are even more pronounced in the share of girls and boys engaging in vigorous physical activity at least four times a week. Here the EU gender gap doubles to 15 p.p., again to the detriment of girls. France and Luxembourg have the highest gaps, of 23 p.p.[4]. Exercise in adolescence is particularly important because regular physical activity, such as school-based high-impact exercise protocols, can improve bone mass and prevent osteoporosis. This condition affects half of all women in old age, but only a fifth of men (Xu et al., 2016). Adolescence is also when physical activity habits lasting into adulthood are established (Currie, 2016).
Physical and social activity have been proven to be positively associated with better health (Roychowdhury, 2020). However, women and men have different patterns of social activities and different amounts and uses of leisure time (EIGE, 2020g)[5]. The diminishing boundaries between professional and personal time created by digitalisation have seen paid work increasingly encroaching on leisure time, especially for women in precarious employment (EIGE, 2020g; European Parliament, 2016a; Wajcman, 2015).
Research suggests that less physically active women tend to report more barriers to exercise (E. S. Edwards and Sackett, 2016). Since women generally do most of the childcare and housework, they have less leisure time available for physical activities than do men (The Lancet Public Health, 2019). Environmental and socioeconomic factors also determine women's and men's engagement in physical activities. A Eurofound study on social insecurities and resilience suggests that women and men have different risk perceptions of outdoor surroundings after dark. Women living in the poorest urban settings feel the most insecure in their neighbourhood (Eurofound, 2018a). For them, physical activity outside is a safety risk, discouraging them from exercising, including walking or running.
Although it is too soon to know the long lasting effects of the COVID-19 pandemic on activity levels, there are already indications of gendered changes in physical activity. Lockdown measures at the start of the pandemic led to men, particularly younger men, doing less physical activity. Research in Croatia (Sekulic et al., 2020) and Italy (Giustino et al., 2020) suggests that this is because young men rely more on outdoor and team sports, which were more severely restricted by social distancing orders than the home-based, individual exercise women more often participate in. A systematic review found that people who exercised regularly before the pandemic increased their physical activity during lockdown, while those who did not were even more sedentary (Khan et al., 2021).
Healthy diets are key to prevent or delay NCDs such as diabetes, hypertension, cancer and osteoporosis (WHO, 2003). This is particularly important during the COVID-19 pandemic, as NCDs put individuals at greater risk of severe health outcomes and death in the case of infection. Men's higher mortality rate during the pandemic is partly due to their higher levels of NCDs (see Section 9.2.2.).
For adults, healthy eating involves at least 400 g (or five portions) of fruit and non-starchy vegetables as daily target (WHO, 2020d). Although the exact breakdown, preparation method and weight amount differ across Member States, all have implemented WHO guidelines and recommend eating at least five portions of fruit and vegetables daily in their national dietary guidelines (European Commission, 2021f).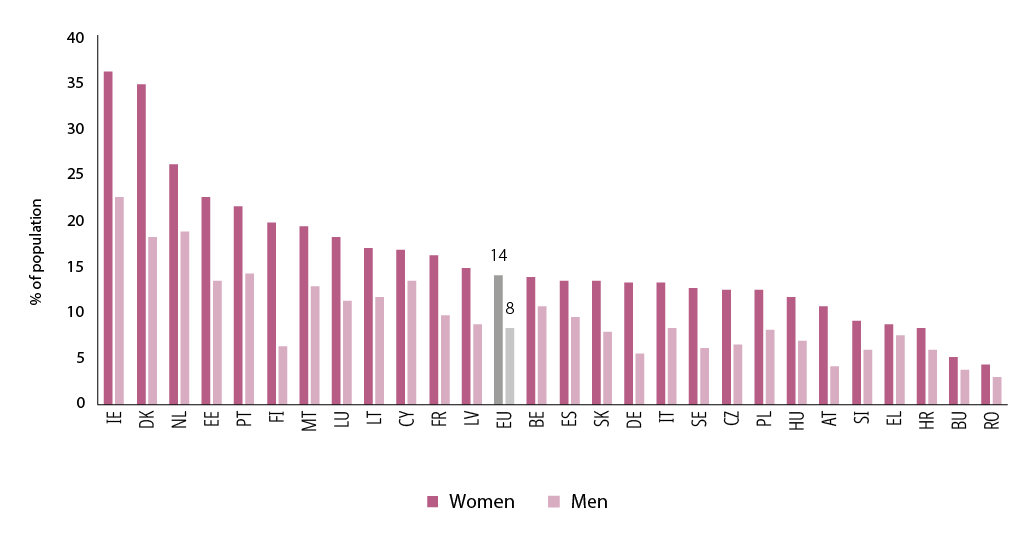 Figure 34. Women and men consuming at least five portions of fruits and vegetables daily, by EU Member State (%, 15–64 years, 2014)
Source: Eurostat, https://ec.europa.eu/eurostat/web/products-datasets/-/hlth_ehis_fv3e.
Data from the European Health Interview Survey (EHIS) (2014) shows that barely 1 in 10 adults meet these recommendations, and large gender gaps exist in healthy eating across the EU. On average, the share of women who consume the recommended five daily portions of fruit and vegetables is almost twice that for men (Figure 34). The share of women meeting the daily target is lowest in eastern and south-eastern Member States, and highest in Ireland and Denmark. Ireland also has the most men meeting WHO recommendations, with more recent data on living conditions in Europe confirming this[6]. Although Ireland, Denmark and the Netherlands have more men eating the required daily amounts of fruit and vegetables, substantial gender gaps remain when compared with women. Overall, men are more likely to have poor diets and to engage in dietary risk behaviour. This is particularly so among men over 50 years. The highest rates of loss of healthy life years among men attributable to poor diet are in eastern Europe, but men in western Europe also show distinct patterns of unhealthy eating behaviour, with diets low in fruits, nuts and vegetables (WHO Regional Office for Europe, 2018).
Gender differences in healthy dietary behaviour exist across the age spectrum. For example, the Healthy Lifestyle by Nutrition in Adolescence (HELENA) study examines healthy eating behaviours among adolescents in 10 Member States. Girls have a greater variety of healthy diet patterns, greater availability of fruit at home and more awareness of what it means to eat healthily than boys (González-Gil et al., 2019). In addition, the authors noted that healthy diet patterns are determined by the food choices parents provide, regardless of gender. Both these observations – the gender gap in fruit consumption and parental influence on adolescents' healthy eating behaviour – are also made in a WHO report examining the health behaviour of school-aged children (Inchley et al., 2016). The report also shows that income and family affluence are a driving factor for healthy eating behaviour. Adolescents living in more affluent households are more likely to share meals with family members and have more access to fruit. Adolescents from low-affluence households, especially girls, reported a higher consumption of sugared drinks. These findings underline the need for healthy foods, such as fruit and vegetables, to be affordable, available and accessible to all ages, and for their consumption to not be feminised.
A systematic review of dietary behaviour during the COVID-19 pandemic concluded that gender and low income are determinants of weight gain (Khan et al., 2021). These factors play a particularly influential role in the health behaviour of lone mothers, who are likely to spend a disproportionate amount of their income on healthy food for their children, neglecting their own health by going without food or making cheap, unhealthy, choices, often leading to weight gain (Martin and Lippert, 2012). As of 2015, Finland was the only country to provide free school meals for all pupils and students at all levels, from pre-primary to upper secondary (Polish Eurydice Unit, 2016). While all Member States provide some school meal discounts for low-income families, school closures during the COVID-19 pandemic led to food insecurity for school-aged children and adolescents from less affluent backgrounds (Nicola et al., 2020).
Dietary behavioural change during the pandemic has been noted in women, but not necessarily in men. In a study of three Member States (DK, DE and SI), Janssen et al. (2021) noted that women increased their consumption of fruit and vegetables during the first month of the lockdown in 2020, in contrast to men. The authors attribute the growing gap in fruit and vegetable consumption to wider gendered patterns in health, since women are more likely to control their healthy eating behaviour and prevent or mitigate a possible COVID-19 infection.
Men are more likely to smoke and drink
Sociocultural norms and gendered attitudes shape willingness to engage in health-promoting or risky behaviours. Harmful perceptions of masculinity limit boys and men in their self-care and create barriers to healthy living and well-being. Acceptable norms for women and men, in terms of health behaviour, structure men's health in two ways. First, societal gender norms discourage men from participating in health-promoting behaviour, usually seen as feminine, including using sunscreen (Courtenay, 2000), being a vegetarian (Bogueva et al., 2020) or getting psychological counselling (Seidler et al., 2016). Second, social acceptance of certain risky health behaviours. including unprotected sex, excessive use of harmful substances, extreme sports, violence, smoking and excessive alcohol consumption, is greater when such practices are carried out by men (Baker, 2019; Courtenay, 2000).
Between 2003 and 2005, smoking and hazardous drinking were responsible for substantial proportions of the mortality gender gap in 30 European countries. Smoking-related deaths accounted for 40–60 % of this gender gap in all surveyed countries; alcohol-related mortality accounted for 20–30 % of the gap in eastern Europe and 10–20 % elsewhere in Europe (G. McCartney et al., 2011). Although 15-year-old girls are slightly more likely to smoke than boys of the same age – 19 % compared with 17 % – the trend among adult is reversed (OECD/European Union, 2020).
In 2014, more men than women smoked daily in 26 Member States, with Sweden the only exception (Eurostat, 2020). Nationally, daily smoking figures ranged from 7.5 % in Sweden to 37.3 % in Cyprus for men, and from 8.3 % in Romania to 22 % in Austria for women. Several studies have identified factors linked to smoking and adverse health outcomes for women, including biological, genetic and hormonal factors, socioeconomic determinants, occupational exposure, job stress, personal lifestyle and passive smoking, or a combination of these factors (Syamlal et al., 2014). In addition, women find it harder to stop smoking than men. This is especially true for younger women with lower income and education levels, who are also more likely to continue smoking during pregnancy (WHO Regional Office for Europe, 2021a). The same report found that only 11 % of warning images on tobacco packaging feature women, implying a gender gap in female representation in health prevention measures.
WHO Europe has declared the growing use of electronic cigarettes, especially among adolescents, as alarming for public health. Although there is no complete data set for the EU-27, countries with a high prevalence of adolescents using e-cigarettes are Poland (23.4 %), Latvia (18 %) and Italy (17.5 %) (WHO Regional Office for Europe, 2020b). As with tobacco smoking, gendered patterns are visible in e-cigarette use. A systematic review covering the WHO Europe region found a higher prevalence of e-cigarette use among men, adolescents and young adults, tobacco cigarette smokers and former smokers (Kapan et al., 2020). Though further research is needed, a study on 14 to 17 year-olds in seven Member States found that boys are more likely than girls to use only e-cigarettes (Kinnunen et al., 2021). The same study also shows that more boys than girls smoke both tobacco and e-cigarettes.
Alcohol consumption is considered one of four key contributors to NCDs, for example diabetes, cancer, cardiovascular diseases and epilepsy. Harmful drinking is a risky health behaviour, with gendered implications. Drunkenness can lead to gender-based violence, hinder effective contraceptive use and cause adverse pregnancy outcomes such as fetal alcohol syndrome (WHO, 2019d). According to a WHO Europe report, Europe has the highest alcohol consumption worldwide, irrespective of gender (WHO Regional Office for Europe, 2018). However, there is a pronounced gender difference in average heavy episodic or binge drinking[7]. Men engage in this behaviour twice as often as women (Figure 35). The lowest shares of men binge drinking at least once a month are in southern and Mediterranean Member States, at less than one in five, while more than a third of men drink excessively in Latvia and Lithuania.
Figure 35. Women and men engaging in heavy episodic drinking at least once a month, by EU Member State (%, 18–64 years, 2014)
Source: Eurostat, https://ec.europa.eu/eurostat/web/products-datasets/-/hlth_ehis_al3e. No data available for FR and NL.
Alcohol consumption patterns differ when considering various socioeconomic factors. According to the OECD (2015), men with lower incomes do more heavy drinking than those with higher incomes. For women, this pattern is reversed. Drinking to relieve distress is noted predominantly in men, and far less so in women. Distress in men increases harmful drinking, including alcohol dependence, binge and hazardous drinking, and intoxication (de Goeij et al., 2015).
Research on 50 to 64 year-olds in 15 EU Member States and Switzerland shows that the prevalence of hazardous drinking is significantly higher among men than among women in most countries. Likewise, the risk of becoming a hazardous drinker is 1.69 times higher for men than for women (Bosque-Prous et al., 2015). Lower values on the gender empowerment measure[8] 'economic and political participation, and power over economic resources' and higher unemployment rates are linked to greater gender differences in such drinking. The authors suggest that this can be attributed to gendered patterns, as unemployed men drink more and unemployed women drink less, widening the overall gap (Bosque-Prous et al., 2015). Countries with the greatest gender differences in hazardous drinking are those with the greatest gender inequalities in daily life, while smaller gender differences seem to be related to higher consumption among women (Bosque-Prous et al., 2015). The authors note that women's higher alcohol consumption in more gender-equal countries could be related to more progressive gender norms, making it easier for women to be targeted in alcohol adverts and for their risky drinking behaviour to be more acceptable.
A systematic review of alcohol consumption during economic crises over a 25-year period also reveals gendered differences. Emotional stress leads men to drink more whereas financial limitations result in women drinking less (De Goeij et al., 2015). In Poland, a study on health behavioural changes during the COVID-19 pandemic found that overall alcohol consumption has increased among men. Women are drinking the same amount as before, but are drinking different types of alcohol (Sidor and Rzymski, 2020). Robust evidence is still scarce and mostly based on national research
[1] It is important to note that the Index consults the share of the population that is not engaging in risk-taking health behaviour to have consistent measurements reflecting health-promoting behaviour. Therefore, a higher Index score for health behaviour indicates that a higher share of the population engages in physical activity and healthy diets, and drinks and smokes less.
[2] Values for Estonia are estimates. The reliability of the data is limited.
[3] EIGE calculations based on Eurostat, https://ec.europa.eu/eurostat/web/products-datasets/-/ilc_hch07.
[4] HBSC survey 2017/2018, authors' calculations. NB: EU: unweighted average.
[5] As highlighted in EIGE (2020g), data from the time domain shows that, among working adults, rates of regular participation in sport, cultural and leisure activities outside the home are extremely low in some countries, especially among women. The share of working women engaging in regular social activities outside the home varies widely, being lowest in in Romania (6 %), Portugal and Cyprus (10 % each) and Bulgaria and Greece (11 % each) and highest in Denmark (53 %), the Netherlands (56 %) and Finland (60 %).
[6] EU-SILC, https://ec.europa.eu/eurostat/web/products-datasets/-/ilc_hch11, 2017.
[7] Heavy episodic drinking is defined as 60 g or more of pure alcohol on at least once per month (WHO, 2019d).
[8] The gender empowerment measure has since been integrated into the United Nations Development Programme's Gender Inequality Index, http://hdr.undp.org/en/content/gender-inequality-index-gii.