The domain of violence provides a set of indicators that can help the EU and its Member States to monitor the extent of the most common and documented forms of violence against women. Unlike other domains, the domain of violence does not measure differences between women and men, but examines and analyses women's experiences of violence. The main objective is to eliminate violence against women, not to reduce gaps.
A three-tier structure of measurement was defined to provide the most complete and reliable picture of violence against women in the EU.
A composite measure combining indicators on the extent of violence against women. The composite measure does not affect the final score of the Gender Equality Index. However, violence against women must be considered alongside other domains as it mirrors enduring inequalities in the fields of work, health, money, power, knowledge and time. In 2017, the EU had a score of 27.5 (EIGE, 2017b). A high score in the Gender Equality Index means that a country is close to achieving a gender-equal society. However, in the domain of violence, the higher the score, the more serious the phenomenon of violence against women in the country is. On a scale of 1 to 100, 1 represents a situation where violence is non-existent and 100 represents a situation where violence against women is extremely common, highly severe and not disclosed. The best-performing country is therefore the one with the lowest score. The calculation of the scores of the composite measure relied on data findings of a 2014 survey by FRA. Until the completion of the next EU-wide survey on violence against women led by Eurostat

(1)

, scores for this domain cannot be updated.
Additional indicators covering a broader range of forms of violence against women described in the Istanbul Convention (Council of Europe, 2011). These indicators might be included in the calculation of the single score if more reliable and comparable data becomes available. This includes EIGE's indicators on administrative data.
Contextual factors include some of the root causes of violence against women. This set of indicators enables analysis of the extent of violence against women over time and across Member States. Defined to monitor the compliance of the Member States regarding the obligations set out in the Istanbul Convention, they cover six dimensions: policies; prevention; protection and support; substantive legislation; involvement of law enforcement agencies; and societal framework.
Data gaps mask true scale of gender-based violence in EU
Among LGBT groups across the EU, transgender people are most likely to report experiences of violence. A FRA survey found that 34 % of transgender people had experienced either a physical or a sexual attack or the threat of violence in the previous five years (FRA, 2013). A major concern is the high level of repetitive violence against this group in society, with 44 % of trans women reporting experience of physical/sexual attack or the threat of violence at least three times in the preceding 12-month period. Trans women and men are also most likely to face hate-motivated harassment, including verbal abuse, humiliation and social exclusion. On average, one in three transgender people was harassed in the same time frame, according to the survey.
In the absence of up-to-date and comparable data within the domain of violence in all 28 EU Member States, only the forms of violence against women for which recent data is available are examined, namely femicide, female genital mutilation (FGM) and trafficking in human beings. These three forms of violence are part of the second-tier indicators of the measurement framework for the domain of violence.
Femicide
Femicide is a phenomenon captured partially through national administrative data on intentional homicide of women by an intimate partner or by family member or relatives.
In 2016, 16 EU Member States reported a total of 788 women killed by a partner or family member. On average, intimate partners or family members intentionally killed more than one woman every day in those Member States (Figure 1). In the remaining 12 EU Member States there is no comparable or available data disaggregated by sex and the relationship between the victim and the perpetrator on women victims of intentional homicide, therefore the magnitude of the phenomenon cannot be truly known. In addition, to date, the term 'femicide' has not been legally defined in any Member States' criminal law.
Figure 1: Women victims of intentional homicide by an intimate partner or family member, by 100,000 female population,
17 EU Member States, 2016
Source: Eurostat (crim_hom_vrel) and United Nations Office on Drugs and Crime (UNODC) homicide statistics.
Note: Data related to the number of women victims of intentional homicide by family and relatives was not available for Italy, Malta, Slovakia, England and Wales. The data on Austria is the sum of the intentional homicides of women committed by an intimate partner and family member or relatives. No data available for Northern Ireland.
Female genital mutilation (FGM)
FGM refers to 'all procedures involving the partial or total removal of the external female genitalia or other injury to the female genital organs for non-medical reasons'. As with some other forms of violence, FGM is particularly hard to measure in the EU.
In 2015, EIGE developed a methodology to assist Member States in estimating the number of girls at risk of FGM, the aim of which is to develop better policies to prevent and combat FGM. Since then, EIGE has carried out two studies in nine EU Member States (BE, CY, FR, EL, IE, IT, MT, PL, SE) (EIGE, 2015a, 2018a), which demonstrate that strong legal frameworks, anti-FGM campaigns and awareness-raising initiatives contribute effectively to preventing FGM in EU Member States.
Drawing from EIGE's risk estimation methodology, Germany and Finland carried out their own research. In 2017, between 6 % and 17 % of 25 325 girls in Germany originating from countries where FGM is practised were considered to be at risk. In 2018, Finland (2) counted 3 000 girls likely to be at risk of FGM.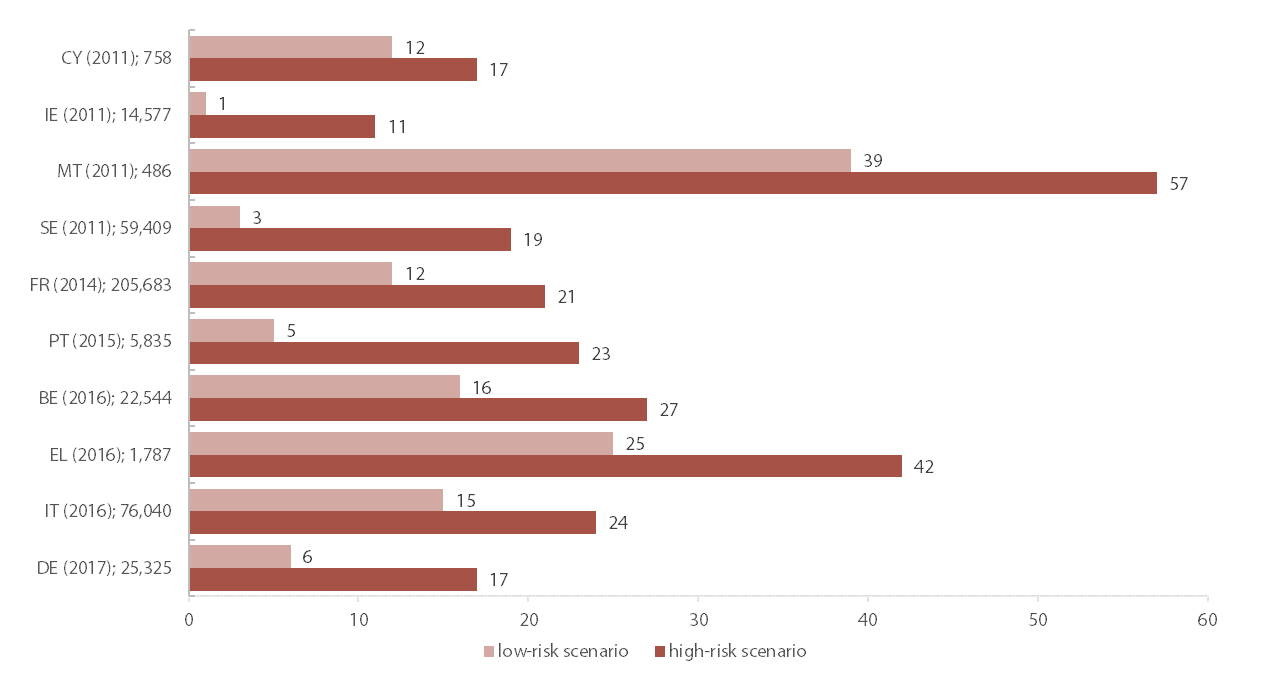 Figure 2: Estimated proportion of girls (aged 0-18) of the migrant resident population at risk of female genital mutilation (in 2011 and latest available year)
Sources: EIGE (2015, 2018a).
Trafficking in human beings
Trafficking in human beings is estimated from administrative records at the national level related to 'registered victims' (EIGE, 2017b). In 2016, the number of registered female victims of trafficking in the EU reached 7 007(29). Overall, evidence shows that 68 % of registered victims of trafficking are women and girls. The most widespread form of exploitation experienced by women and girls is sexual exploitation, accounting for 95 % of the total number of registered victims of this form of trafficking in the EU.
Although this data provides valuable information, the actual prevalence of trafficking in human beings is difficult to quantify due to its transnational, criminal and underground nature (FRA, 2009a). Moreover, victims of trafficking face a vast range of obstacles generally preventing them from reporting to or being identified by a relevant formal authority. These include trauma, fear of/dependency on the trafficker, victimisation through stereotyping, lack of information about available resources and language barriers (EIGE, 2018b).
Many other severe forms of violence against women, such as psychological violence and forced marriage, are still inadequately measured in the EU due to a lack of consistent and comparable data. To support Member States in collecting administrative data on rape, femicide and intimate partner violence, EIGE proposed a set of 13 indicators based on uniform statistical definitions that should be populated with data collected by the police and justice sectors. Seven of these indicators are part of the measurement framework for the domain of violence.
Administrative data is a particularly useful source of information. It shows how the police, justice, health and social services, as well as organisations dealing with the prevention, protection and prosecution of gender-based violence, respond to the phenomenon.
Backlash against gender equality undermines legal efforts to end violence against women
Ending all forms of violence against women is a priority for the EU. In 2011, the adoption of the Anti-trafficking Directive by the European Parliament initiated binding legislation to protect victims and to prevent and prosecute trafficking. In 2012, minimum standards on the rights, support and protection of victims of crime, including violence against women, were established through the victims' rights directive. On a similar note, the European protection order directive further developed protection mechanisms for the victims of crime in the EU.
In 2017, the EU's accession to the Istanbul Convention provided a stepping stone to establishing legally binding standards and procedures for the elimination of all types of violence against women in the region. Although all 28 Member States have signed the convention, Bulgaria, Czechia, Hungary, Latvia, Lithuania, Slovakia and the United Kingdom have yet to ratify it.
The European Commission reaffirmed its commitment to tackling violence against women in its Strategic Engagement for Gender Equality 2016-2019, calling on EU Member States to make further efforts in developing effective institutional responses to this enduring phenomenon. This includes, for example, raising awareness, improving data (availability, quality and reliability) and ensuring access to protection and support for survivors of gender-based violence.
In recent years, the EU has witnessed a general backlash against gender equality and women's rights. The emergence of 'anti-gender' movements in several EU Member States has had numerous negative effects on institutional, legal and policy frameworks aimed at combating gender-based violence. In addition, the ratification of the Istanbul Convention in several EU Member States has faced strong opposition from political and religious groups. Similar resistance has hindered the process of EU ratification of the convention, undermining its full implementation.
---
[1] The data collection phase is planned to take place between 2020 and 2022.
[2] For Finland, the calculation of the share of girls at a high and a low risk of FGM is not available.
[3] Based on the data provided by 27 Member States, including women and girls and men and boys.