Data collection
EIGE provides access to existing statistics data and information on gender-based violence, aiming to support the institutions and experts engaged in preventing and combating gender-based violence in the European Union and beyond.
The collection of data related to violence against women has been recognised as an important topic by the EU, the Council of Europe and, at international level, by the United Nations in their commitment to eradicate violence against women. The European Parliament resolution on the elimination of violence against women (26 November 2009), the Council of the EU's conclusions on the eradication of violence against women (8 March 2010), as well as the Council conclusions on Combating Violence Against Women, and the Provision of Support Services for Victims of Domestic Violence (6 December 2012) highlight the lack of available and comparable data in this area in the EU.
There is an urgent need for comparable data on gender-based violence in all of the 28 EU Member States. Through its knowledge centre, EIGE provides access to research, methods, tools and good practices in the area of combating gender-based violence.
Data on violence against women can be obtained through different sources, including sample surveys as the closest proxy to real prevalence or incident rates, or through administrative institutions dealing with reported cases of violence against women. Official sta­tistics are compiled and produced, usually by the National Statistical Offices, based on data from surveys and/or administrative sources, capturing only partially the actual prevalence and incidence of violence against women. The difference between actual prevalence and incidence of violence on one hand, and disclosed violence recorded by sample survey on the other is a 'grey zone', as illustrated below.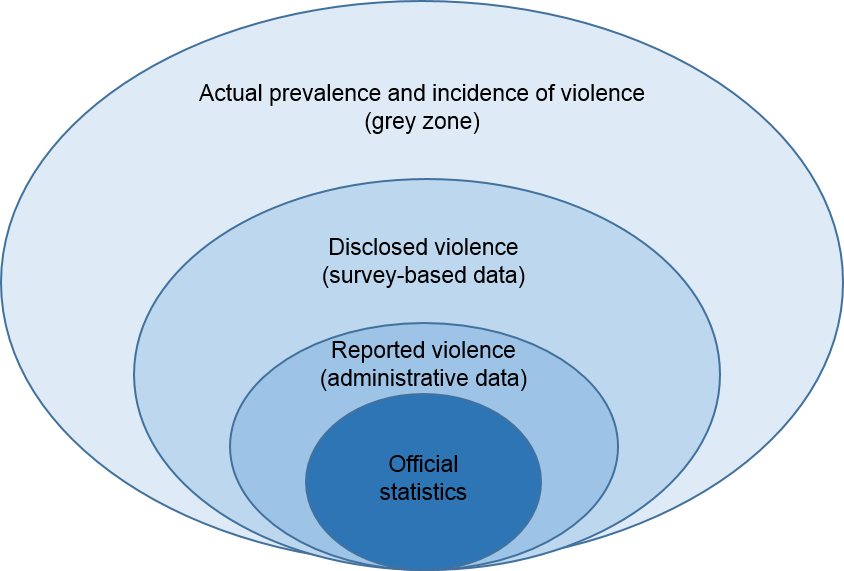 Survey-based data
Survey-based data can provide pertinent information usually on prevalence, but also incidence, severity and frequency of violence. This approach depends on the willingness of the respondent to disclose any vio­lence she has experienced. Under-reporting is a common issue faced by all sample surveys or opinion surveys independent of the focus of the exercise but especially important for sensitive topics as violence against women.
The majority of EU Member States have conducted national surveys on violence against women, either in the form of a dedicated survey or as a module on violence against women included in another type of survey (for example, victimisation or health survey) during the period 2007–14. Differing concepts, methodologies, time periods, sample group characteristics, and forms of violence asked about in surveys hinder the comparability of results and make the measuring of prevalence across the EU on the basis of the existing national surveys impossible.
The EU-wide Survey on Violence against Women carried out by the EU Agency for Fundamental Rights (FRA) and released in March 2014 is the only attempt aiming to capture the prevalence of violence against women in a harmonised and comparable way across all EU Member States. The questions asked in the survey relate to women's personal experience of various forms of violence, the severity and frequency of their experience of certain types of violence, and the consequences the acts of violence has had on their lives. Data were collected through interviews with over 42 000 women in the EU-28.
Administrative data
Administrative data comprise information from the police, justice, health and social services, and other agencies, such as civil society organisations (CSOs) or gender equality units, which come into con­tact with cases of violence against women. Administrative data complements prevalence sur­vey data by providing information on cases reported to these institutions and thus gives only a partial picture of violence against women. The police and the justice systems are the most advanced in the availabil­ity, quality and comparability of administrative data.
Significant differences between Member States in terms of laws and legal definitions, data collection methodologies, and methodologies for compiling and producing statistics on violence against women, make comparison between and across Member States impossible. In many EU Member States, statistics based on police or justice data do not include relevant informa­tion on certain aspects of violence against women. For example, data may not be disaggregated by the sex and age of the victim and perpetrator, or by the relationship between the victim and perpetrator, which means that instances of intimate partner violence and other forms of domestic violence are not easily identifiable.
Administrative data are an important source of information on violence against women in the EU for monitoring and evaluating purposes. Some forms of vio­lence, such as femicide or trafficking of women for sexual exploitation, can only be gathered through administrative data sources.
For further information on EIGE's work on administrative data, please see EIGE's studies and the administrative data mapping tool.