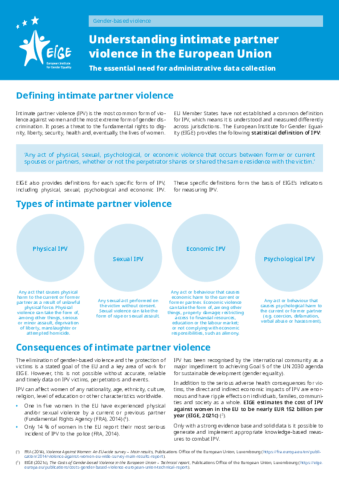 Intimate partner violence (IPV) is the most common form of violence against women and the most extreme form of gender discrimination. It poses a threat to the fundamental rights to dignity, liberty, security, health and, eventually, the lives of women.
EU Member States have not established a common definition for IPV, which means it is understood and measured differently across jurisdictions.
The elimination of gender-based violence and the protection of victims is a stated goal of the EU and a key area of work for EIGE. However, this is not possible without accurate, reliable and timely data on IPV victims, perpetrators and events. IPV can affect women of any nationality, age, ethnicity, culture, religion, level of education or other characteristics worldwide.
One in five women in the EU have experienced physical and/or sexual violence by a current or previous partner
Only 14 % of women in the EU report their most serious incident of IPV to the police.
Administrative data is information that is created when people interact with public services (e.g. law enforcement, court systems and healthcare institutions). Even though administrative data is primarily collected for administrative purposes, it plays an important role in monitoring the implementation of policies and in assessing the effectiveness of the state response.